"Why Do I Do The Things I Hate" by K. Bryan Kelso L.M.F.T.
Not yet completed; hopefully will complete in early 2024 (better at talking about such things over writing about them!) 
This book is an attempt to demystify the "dilemma" expressed by Saint Paul in the 7th chapter of Romans: "Why do I do the things I hate"?  Puzzled by this as a human being for most of my life, I convey my disordered past of relational failures due to this confusion, and inability to find healing in many expressions of Christianity. By use of tools found in the Church, my struggle to a deeper conversion to Christ motivated by this dilemma, and my work as a psychotherapist helping others with this dilemma, have enabled me to understand and articulate many of the roots of this dilemma. 
The best and largest part of the book attempts to describe how to heal the pain and absences of peace caused by this dilemma. I have found working with mostly Catholic people over the years, many don't know how to incorporate the incredible powers in the church for healing. I describe my 3 favorite healing interventions (Adoration, Confession & The Mass) and discuss specific uses of these in merging psychology and faith toward the healing our Romans 7 dilemma. The talks on this site are all thumbnail reflections of the books contents.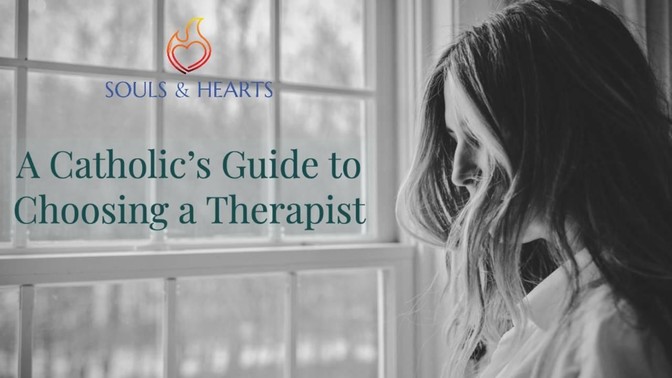 If you've decided that you need to see a therapist, you may be feeling overwhelmed about what to do next. Dr. Peter Malinoski and Dr. Gerry Crete, co-founders of Souls and Hearts, have put together a free course to help Catholics select the right therapist.
Suffering
This was taken from the Magnificat "meditation of the day" on 9-26-20
Understanding the Passion with Our Lady
This is another of the things to be discovered in contemplating our Lady. We ask him to come and abide in us; we ask the Holy Spirit to form him from our lives; we believe that he does do this. If Christ is formed of our lives, it means that he will suffer in us. Or, more truly, we will suffer in him. 
"And he was made man." Our Lady saw at once what was meant in her case supernaturally, he was made herself. If he is made man in you, he will be made you; in me, me. It is extremely difficult to lay hold of this fact. It is very hard not to think of a kind of mystical Christ just beside us, or just in front of us, suffering with infinite patience and joy, being obedient, humble, persevering, fulfilling his Father's will. It is really difficult to realize that if he is formed in our life we are not beside him but in him; and what he asks of us is to realize that it is actually in what we do that he wants to act and to suffer….
If you are an office worker and the person over you is trying, perhaps rather limited in intelligence, so that you imagine you have some kind of right to be irritable, well, it is not you at all that must be obedient and humble and gracious, it is Christ, Christ, who said to the weak and timid civil servant, Pontius Pilate: You would have no power over me if it were not given to you from above.
It really needs to be practiced to be understood. We need to say to ourselves a thousand times a day: "Christ wants to do this; Christ wants to suffer this." And we shall thus come to realize that when we resent our circumstances or try to spare ourselves what we should undergo, we are being like Peter when he tried to dissuade our Lord from the Passion.
There is one tremendous answer to the question which is reiterated to the point of utter weariness: "Why should I?" It is another question: "Ought not Christ to suffer these things and so enter into his glory?"
Caryll Houselander
Caryll Houselander († 1954) was a British author, poet, and spiritual teacher. [From The Reed of God. © 1944, Caryll Houselander, Christian Classics, a Division of Thomas More Publishing, Allen, TX.]


​​​​​​​